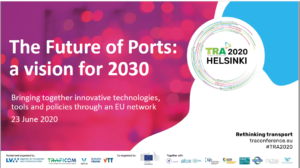 DockstheFuture and ALICE platform were jointly organising a TRA invited session on "The Future of Ports: vision 2030 – Bringing together innovative technologies, tools and policies through an EU network" in a form of a webinar was on Tuesday, 23 June at 11:00-12:30 CEST.
The webinar is a redesigned invited session supposed to take place at the TRA2020 conference in Helsinki, Finland 27-30 April 2020.
The four H2020 important initiatives – DockstheFuture, COREALIS, PortForward, PixelPorts – and an Interreg project – ResQU2, join forces under the umbrella of the ALICE platform to bring latest innovative technologies and tools for future ports.
The webinar agenda: The Future of Ports: vision 2030 – Bringing together innovative technologies, tools, and policies through an EU network
Organiser: Manuela Flachi; Magellan
Moderator:  Salvador Furio;  ALICE corridors, hubs and synchromodality chair
Speakers:
Nicola Sacco, University of Genova

Wiebe de Boer Deltares

Ignacio Lacalle Úbeda, Universitat Politecnica de Valencia

Christian Blobner, Fraunhofer Institut

Lauri Ojala, University of Turku
The meeting is recorded, and you can watch it here: https://vimeo.com/431843961
The Presentations can be downloaded from the below links: