Revolution in Port Cargo Handling With 5G Solutions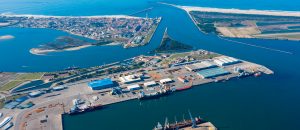 Proof of concept in the port sector brings together Augmented Reality, Virtual Reality and Artificial Intelligence with 5G
Solution contributes to minimising environmental impact and reducing operational costs
Aveiport and PTM Ibérica terminal operators will have access to innovative functionalities for operation monitoring, digital simulation and logistics management
The use of Vodafone's 5G network will allow the Port of Aveiro to monitor and manage its cargo in real time, hrough digital replication solutions and virtual reality and augmented reality applications and devices. These technological innovations, which are being implemented in partnership with Ericsson and used by port operators, will contribute to reduce the environmental footprint of the activities and improve the efficiency, safety and profitability of operations.
This project comprises a proof of concept of Cargo Management which, based on the latest generation 5G private network, dedicated logistics software and high-definition cameras, started to be implemented in May in one of the warehouses of the Multipurpose Terminal of the Port of Aveiro Administration and will
enable substantial advances for port operators in the location, handling and storage of cargo in this which is one of the five largest ports in the country. The solution developed by Ericsson is based on technologies studied and tested as part of the Corealis project for ports, under the European Horizon 2020 programme. This solution has been widely recognized at several international industry events for its positive impact on sustainability, energy efficiency and CO2 reduction. It is based on a dedicated 5G Stand Alone Core and integrates 5G sensors with a series of innovative software applications which, running over Vodafone's 5G network, enable a complete, efficient and sustainable operation of the port terminal.
Read more about it here : https://maritimeducation.com/port-of-aveiro-revolutionises-cargo-handling-with-5g-solutions/
Innovative Port and Harbour Cranes
Crane Regenerative Breaking System
In September 2020, the Panama City Port Authority (PCPA) ordered an eco-efficient Konecranes Gottwald Mobile Harbor Crane for their operations at Port Panama City, in the Florida Panhandle. With delivery and commissioning planned for April 2021, the crane will handle containers, general cargo and breakbulk. The new crane will be a Konecranes Gottwald Model 6 Mobile Harbor Crane in the G HMK 6407 variant, the same model the Port ordered in 2014. It gives a maximum lifting capacity of up to 100t and a working radius of up to 51m, with the outreach needed for ships up to post-Panamax in containers and Capesize in Bulker class. The new crane will be equipped with an external power supply to be operated via the existing harbor mains. When traveling and during autonomous operation (if a connection to the harbor mains is not available), the crane can also use its innovative onboard hybrid drive, combining a Volvo Penta diesel genset with ultracapacitors. The ultracaps provide additional power for heavy lifts and are refilled by recuperating lowering and braking energy. This special system gives maximum adaptability in changing port conditions and ensures that the crane is always ready to deliver loads to or from the terminal. It also follows the strict EPA Tier 4f standards, reducing local emissions and noise while also lowering energy and maintenance costs for the port.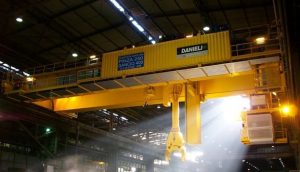 When they are in motion, cranes absorb a remarkable quantity of power to move and lift loads of even hundreds of tons, but a large amount of energy has to be converted back from kinetic energy to electric power during the stopping or braking operations of the crane motors. In conventional solutions this energy is dissipated in dedicated resistors installed on board the crane. A valuable, economical and "ecological" alternative promoted by Danieli Centro Cranes is the use of Regenerative Converters, able to send back to the grid the electric energy generated during braking, instead of just dissipating it as useless heat. In fact, if properly managed this energy can be sent back to the grid, thereby offsetting the crane's energy consumption. In addition to the economic benefits, the crane's configuration is also simpler, with considerable savings in space that is normally occupied by electric resistors, with less electric cables and consequently lower cost.
Read more about it here: https://maritimeducation.com/innovative-port-and-harbour-cranes/
Automated Drones in the Port – Controlled with Highest Safety Levels
Hamburger Hafen und Logistik AG (HHLA) coordinates the intermodal transport of goods and commodities between shore and sea – maintaining the highest safety standards for people and machines. This knowledge has been used by the Group's subsidiary HHLA Sky to develop a multi-award-winning control technology that allows drones to fly safely over the port area and far beyond.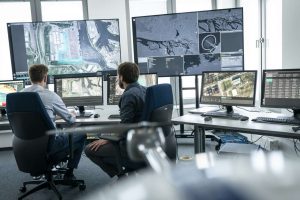 For HHLA, the drones inspect container gantry cranes at the terminals, among other things. The unmanned aerial vehicles are monitored from a control station, which is used to select the right drone for the job, plan the flight path, specify safety protocols, and finally launch and automatically execute the flight. The control station is an in-house development that can simultaneously control and monitor more than 100 drones in different missions. This comprehensive and industry-ready IoT platform, can also interact intelligently with other systems, machines or mobile robots in parallel. The system and the possible application scenarios will be presented at the EUROPEAN DRONE FORUM on November 7-8 in Cologne. Leading manufacturers and operators from small, specialized UAS to logistics drones and large air cabs will meet at the conference. The industry will discuss the challenges and opportunities in regular drone operations with international aviation authorities and the European Aviation Safety Agency EASA.
Read more about it here: https://maritimeducation.com/automated-drones-in-the-port-controlled-with-highest-safety-levels/