Shoreham Port has launched three new eco-friendly initiatives including a proposal for a new biodiversity corridor along the port's seafront, tree planting on the port's perimeter and a trial installation of debris-collecting Seabins.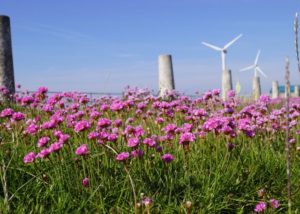 Wildlife planting will take place on all the port's new development sites. Credit: Shoreham Port
The initiatives follow the UK port's recertification of its EcoPort status in April and its appointment of the UK's first port director of infrastructure & climate change in February.
Tony Parker, director of the infrastructure and climate change at the port, commented: "We hope that the biodiversity corridor and Shoreham Arbor can be the start of helping to bring the Brighton and Lewes South Downs Biosphere into the city. The Seabins initiative is a great way to continue to keep our marinas clean and to further protect our water-based wildlife such as swans, ducks, and fish."
Biosphere Partnership
The proposed biodiversity corridor will be a project led by the Brighton and Lewes Downs Biosphere Partnership, of which the port is a member.
Creation of the corridor will be gradual and enabled through a policy of including wildlife planting sites on all the port's new development sites, and by identifying and nurturing wildlife planting on all other sites that could contribute to local biodiversity.
The port also plans to extend tree planting all the way along the northern edge of its site, from Southwick to Hove Lagoon.
Finally, Poralu Marine-produced Seabins will be installed in the port's Lady Bee and Nicholson's marinas. Each floating trash collector has the capacity to catch half a tonne of debris annually, including surface oil, pollutants, and microplastics.
Source: GREENPORT