19 – 20 February 2020
Hilton Canary Wharf,
London
SMART PORTS: HOW TO DIGITALISE PORTS AND THE SUPPLY CHAIN
Tangible results on the use of blockchain, automation, datasharing and 5G
Two day event bringing together the movers, shakers and stakeholders across the supply chain to discuss how to integrate smarter operations across port and terminal activity.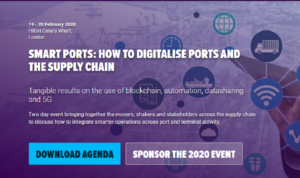 Automation. Digitalisation. Supply chain optimisation.
Maintaining a competitive advantage in a fast-pace digital environment remains one of the biggest challenges facing ports and terminal operators today. Which trends are set to shape the future?
source: Greenport