INTESA Event: Information Technology for Safety: synergies on National Single Windows integration for the Adriatic and Ionian Sea
---
The INTESA project national event will be held in Rome, on 16th December 2021 from 09:30am to 03.30pm, live and online streaming.
During the event, titled Information Technology for Safety: synergies on National Single Windows integration for the Adriatic and Ionian Sea, will be presented the best practices on maritime safety, environmental sustainability and digitalization of the maritime transport logistic chain together with the pivotal role of the maritime information sharing to build a sustainable and competitive multimodal transport system.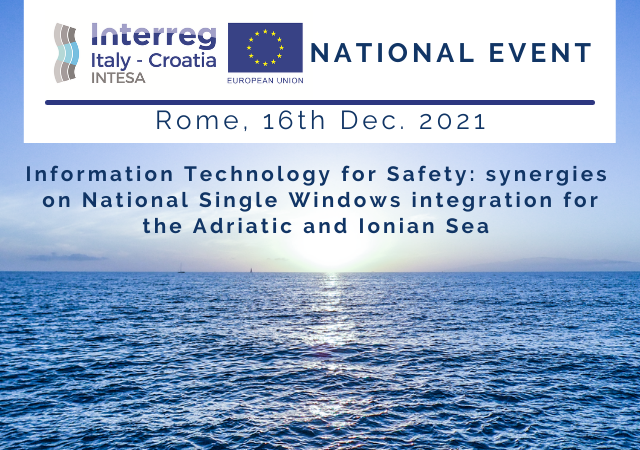 Furthermore, a specific session will be dedicated to the sinergies among INTESA and the INTERREG ADRION funded EUREKA project Adriatic-Ionian joint approach for development and harmonisation of procedures and regulations in the field of navigation safety, focusing on the crucial role of systematic cooperation and coordination among Maritime Administrations and of the contribution to the EUSAIR strategy to develop safety, security and competitive regional intermodal port system.
INTESA event's main topics
Data Exchange and Interoperability
Cartography
Aids To Navigation
AIS ASMs messages
Port Collaborative Decision Making
Digital Transport Logistic in Europe
Mandatory Ship Reporting systems
Harmonization and standardization of VTS procedures and services
Sea Traffic Management service through AIS network
AGENDA AND REGISTRATIONS SOON AVAILABLE, STAY TUNED!