Hydrogen-Powered Ferry set to launch in San Francisco bay
The San Francisco Bay will soon have a new fossil fuel-free ferry floating in its waters, propelled completely by hydrogen fuel cells, and officials hope it heralds change on the high seas.Aptly named Sea Change, the 70-foot (21-meter), 75-passenger ferry will service multiple stops along San Francisco's waterfront. It was built at All American Marine shipyard in Bellingham, Washington, and was undergoing tests with the U.S. Coast Guard in nearby Puget Sound.
"We're here in the water, under hydrogen fuel cell power and it's the first commercial vessel in the world that's got that propulsion system," said Pace Ralli, chief executive of Switch Maritime, standing on the bow of the ferry in Bellingham Bay.Sea Change marks another industry exploring fuel cells as clean-energy cars, trucks, trains and pleasure boats are being developed. Advocates assert hydrogen fuel cells are cleaner than other carbon-cutting methods as they only emit water and heat, but the high cost and bulky fuel cell systems have limited the use of the technology. Ralli conceived the idea for the fuel cell-powered ferry while living in New York City, trying to find ways to decarbonize the maritime industry.
"There was a project in California that was being sponsored by the California Air Resources Board, and they were working on hydrogen fuel cell as a method for decarbonizing ships, so we joined up with them and funded their project in 2019," Ralli said.
Read more about the above article here: https://maritimeducation.com/hydrogen-powered-ferry-set-to-launch-in-san-francisco-bay/
Hydrogen power barge project brings rocket science on board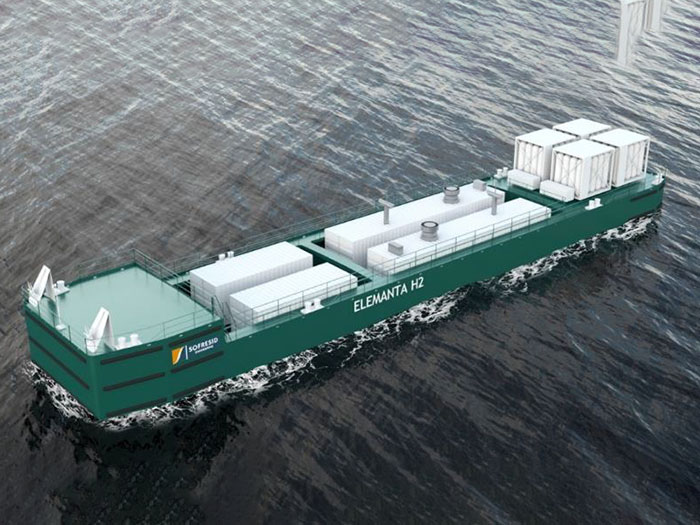 A French consortium is planning to put a multi-service power barge into operation in the Port of Rouen that would supply energy and hydrogen to ships during port calls, enabling cold-ironing and cutting down on emissions. Partners in the project are Améthyste, ArianeGroup, Cetim, Hydrogène de France (HDF Energy), Rubis Terminal and Sofresid Engineering. Called the Elementa H2, the power barge would integrate a multi-MW hydrogen fuel cell system manufactured in France by HDF Energy and a high-pressure green hydrogen storage system.
SAIPEM subsidiary Sofresid Engineering, which in 2019 won an environmental award for its Elementa LNG power barge concept, is to carry out the architecture and the integration of the equipment of the barge. The hydrogen bunkering capability? That, in a sense, actually will be rocket science, drawing on the expertise of ArianeGroup.
Read more about the above article here: https://maritimeducation.com/hydrogen-power-barge-project-brings-rocket-science-on-board/
Electro-hydrogen power generator for the supply of low-carbon electricity on vessels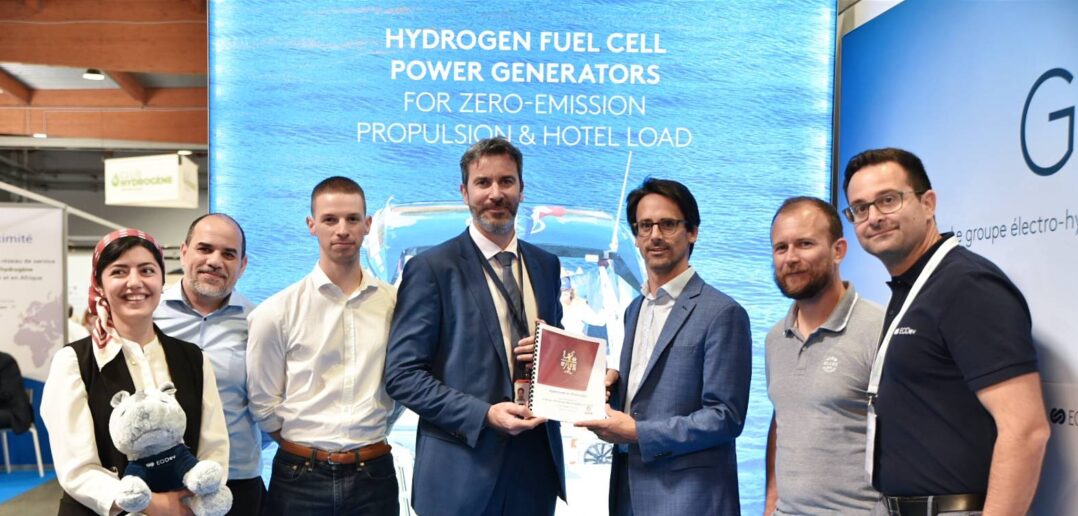 EODev's electro-hydrogen power solutions are approved for the maritime sector.
Testing, inspection, and certification company Bureau Veritas has approved Energy Observer Developments' (EODev) second-generation REXH2 for use by the maritime industry. The REXH2 is a turnkey power generator developed to supply low-carbon electricity on board vessels. Designed around a hydrogen PEM fuel cell, the solution can meet vessel energy requirements ranging from 70kW to approximately 1MW when several REXH2s are installed in parallel.
Approval in principle (AIP) was granted to EODev following an in-depth design review of the system against current classification rules and regulations, which also assessed its compliance with the IGF Code-specific safety regulations for vessels using gases and low-flashpoint fuels. The system also follows BV's NR 547 classification for the use of fuel cells on board ships. Having received the AiP, EODev can now begin serial production of the marine power generator. Type approval of the definitive version of the REXH2 is due to be completed by the end of 2022.
Read more about the above article here: https://maritimeducation.com/electro-hydrogen-power-solution-rexh2-generator-for-the-supply-of-low-carbon-electricity-on-vessels/