Amidst the stockpiling from supermarkets and the fast adoption of face worn air filters, much has been written about how people are defending themselves against the spread of Coronavirus, the latest respiratory threat making its way across the globe.
Few, however, are questioning how the international business will be affected by government travel warnings and a workforce increasingly reluctant to fly.
This, when added to awoke generation hell-bent on fixing the damage done by polluting modes of transport to our planet means the business must innovate once more.
We need to find new ways to be in the room when we can't….or won't actually be in the room.
The proliferation of video calling apps speaks of the need for something to serve the desire from business to connect internationally, but all are limited by either the number of participants or if sharing an environment, the strength of the speaker and the steadiness of the caller's hand.
None so far manage to allow people to share more than their face, voice, and screen.
Step forward Agority from Spinview. A spatial reality space where you can connect with multiple people, spread as far across the world from each other as it is possible to be.
Effective collaboration requires true presence which up until now has only been available through face to face meetings. But face to face meetings increases costs and carbon footprints due to business travel. Spinviews' Agority service offers remote teams a virtual extension of their workspace – a space where dispersed teams come together to share, learn, plan and create – or simply chat. The ability to interact with others remotely as if you were face to face, accessing a feature-rich toolset for effective collaboration, note-taking and customisable space sharing without the inconvenience of travel – save time and money. By providing shared virtual environments where participants are present as if they were in a face to face meeting Spinview offers a complete set of tools for effective live remote collaboration.
Going beyond the sharing of screens and meeting of avatars that are normally associated with virtual reality networking, a variety of industries from oil and gas to telecoms to infrastructure and construction, retail and more are using and embracing this platform in ways even we hadn't thought of. From reducing travel time, cost reductions, error reductions and efficiency enhancement to reducing carbon footprint and the ability to create 'virtual' war rooms.
Here are just a few ways some of our customers are seeing an immediate improvement to their organisation workflow and providing a more sustainable approach. If you'd like to discuss how Agority can assist your business please reach out to any member of the Spinview team or email us at hello@spinview.io
Click on the below link to watch a short introduction:
https://vr.spinviewglobal.com/Agority_demo/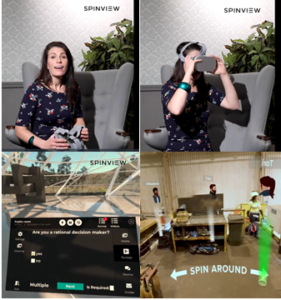 1. Employee On-boarding
There's the blue-chip tech giant who used to fly new team members from America to Eastern Europe every month to visit their factory. They tell us they now have a virtual welcome program which has seen a 100% reduction in these flights, saving the organisation hundreds of thousands of dollars per annum
New joiners are first welcomed with a video in the Agority space before joining a live tour of the factory. Wearing VR headsets eliminates the real world around them so they can be fully immersed in the factory visit – taking in a full 360 view and having their questions answered in real-time as if walking side by side.
2. Leadership & Employee Training
For those responsible for training, learning and development or organising international meetings, Spinview's Agority platform can allow you the feeling of physical presence like you are in the same room even if you are miles apart. It brings back the sense of presence, the subtly of gesture and body language, of having shared space with another human being that's so important when coaching leadership.
For those that want professional coaching support, we offer a unique service combining Agority with our training facilitator Q595 to provide professional expertise of running workshops and learning programs through VR, providing a cost-effective solution that's also kinder to our people and planet.
Q595 provides leadership solutions to organisations in the area of Leadership Training Programs, Advisory Services and Coaching. Their Leadership Academy is focused on Leadership Effectiveness, Collaboration in Teams, Personal Impact and Sales. Q595 offers Leadership Coach Training and other programs as fully blended learning journeys.
Agority is really at its best however, when used in conjunction with the other applications on Spinview's easy to use platform.
The partnership between Spinview and Q595 offers a powerful proposition that video conferencing can't compete with, not just for the humanity of the interaction, but also through the additional connection of its intuitive media and document sharing platform.
In sharing this partnership, Spinview & Q595 hope to support people around the world in connecting with more humility and focus, when its need now more than ever.
3. Remote Inspections
Our European network client uses Agority to not only communicate between teams but to drive greater efficiency in managing its infrastructure.
Using Agority, a remote inspection of its road infrastructure, tracks and properties means hard to access tunnels, complex wiring and historical finds are no challenge to maintain when an engineer is able to share his or her view for expert, on-the-spot guidance and repair.
The application of our tagging software means they can annotate work completed or required so other teams can see at once where they need to be, what has been done and what they might need to bring with them to complete a repair or the next phase of work.
We can even predict when that repair might need additional maintenance….but that's a conversation for another time.
So as you can see a shared spatial collaboration environment provides the ability to host meetings, presentations, and discussions without the need to travel. Any worker can seamlessly collaborate in real-time despite geographical boundaries – giving everyone in every business the ability to "see what you see" and a sense of physical presence and connection regardless of technical know-how.
In her 15-day sail from London to New York in August 2019, Greta Thunberg referenced the Swedish concept of flygskam (flight shaming) and this has led a movement toward staycations and short-haul preference in the leisure space – now exacerbated by Coronavirus.
But for business, the show must go on, despite the health challenges we face today and the environmental hurdles of tomorrow.
How can you be there when you can't actually be there? Our clients believe Agority is the answer.
We exist to share our technology with everyone, to help everyone in every business to be more productive and sustainable, so talk to us about how you might benefit from Agority today.
For any questions or to arrange a virtual tour, please contact https://spinview.io/contact/
Source: SPINVIEW