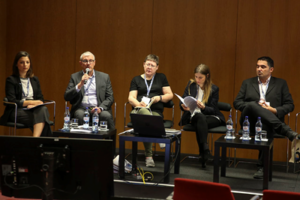 During the European Maritime Day 2019, in Lisbon on May 16-17th, DocksTheFuture has organized a workshop entitled: "What's next for green and sustainable ports", with the participation of 50 attendees.
The workshop ensured a European dimension by showcasing the innovations and perspectives for the sustainability of ports, engaging the participants in debate through online tools (Sli.do), aiming at showcasing practical solutions/good practices, as well as deliver actionable conclusions. The two main guiding themes of the workshop were, on the one hand, the creation of flexible IoT solution to reduce environmental impact and optimize operations of small and medium-sized ports and, on the other hand, the development of sustainable business models. The objective was to bring together different perspectives on the discussion of the conceptualization of the port(s) of the future by 2030 in all dimensions related with climate change, circular economy and sustainable business models, involving, ports researchers and policy-makers.
The discussion panel, moderated by Ana Raposo (Magellan), was the following:
Michel Leyseele – Head of Sustainable Transition at the Port of Antwerp (Belgium);

Angela Carpenter – Researcher at University of Gävle (Sweden);

João Costa – Project Exploitation Manager XLAB (Slovenia), on behalf of H2020 PIXEL Project;

Lucía Calabria Tasa – R&D Project Manager at Fundación Valenciaport (Spain).