Digitalization of shipping
Source: DNV-GL
 Digital opens the new windows for shipping to strengthen their straight relationships with end customers, further reduce their costs, including for fuel, vessel operation, and customer service. Furthermore, it pursues new revenue streams beyond traditional shipping services.
As shown below, there are four main drivers that encourage the shipping toward digitalization: slowed-down growth in global shipping, the oversupply of global vessel capacity, customer preferences, and new competitors with assetless business models.  One of the assestless e-commerce business models which are based on digital platforms is giant Amazon which has obtained a license to operate as an assetless cargo forwarder between the US and China.
Figure 1. Four main drivers for digitalization of shipping

Source: Produced by the Author
 In the shipping industry, yet only a few leading carriers have already applied digital technologies toward improving their direct customer relationships with acceptable costs, but also to optimize their operations and boost their businesses. On the other words, shipping and logistics are still in the early stages of digitalization, and most carriers have yet to achieve substantial progress. To succeed, carriers must adopt a structured approach to defining a digital vision and integrating new technologies, capabilities, and mindsets into their traditional way of working. Carriers should begin by leveraging their existing infrastructure, gradually enhancing systems as required. This area has a great potential for investigation and in-depth studies. Dozens of startups have emerged in recent years aiming to transform the maritime industry, directed by the people who see the industry as hidebound and technologically lagging. However, most of the carriers still handle the cargo process in the traditional way using the telephone, fax, and email to do business.
Big Data and empirical data analysis
An important role of data analytics in shipping will be increasing commercial transport through better customer targeting. The carrier needs to cooperate with companies in order to figure out the challenges and barriers in shipping analytics that need to be addressed in order to affect positive outcomes. In addition, it helps determine what is the traditional and non-traditional data that goes into profitability. The shipping companies usually collect o extremely large volumes of data from different sources like noon reports of ships, sensors, GPS devices, RFID tags and traffic management systems. If Big Data can promote forecasting or avoiding problems, the money saved goes straight to profitability. Four digital aspects of Big Data concept have emerged as especially valuable in the shipping economics. (See Figure 2.)
Figure 2. Four main digital trends of Big Data in shipping
Source: Produced by Author
Blockchain and Smart Contracts 
To replace the long paperwork process through related parties in shipping-related transactions, Blockchain has recently moved from being just a concept to a practical solution that is increasingly discussed in the scope of having potentially transformative impacts on the maritime industry.  To gain more benefits, stakeholders should collaborate to create an industry-wide Blockchain framework, in particular in the optimization of container operations globally.  Based on its typical nature, the Blockchain features can provide added value to shipping and port logistics activities in various aspects. It is about to establish trust, secured data provision, visibility, networking, and integration of supply chain elements and actors. However,  there are areas not explored and analyzed well in detail during the implementation phase.
Figure 3. Blockchain typical information flow in the carrier process.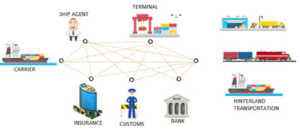 Except for its use as a public ledger, one of the biggest impacts of the Blockchain on the shipping can be the "smart contracts". With a shared database that runs Blockchain protocols, the smart contracts auto-execute, and all parties validate the outcome instantaneously, without wasting time on further exchanges and without the need for a third-party intermediary. Major Advantages are quick processing time and real-time updates, Higher accuracy, high transparency, enhanced security, cost-saving, and easier access to the market, all could go under surveys and analysis.
There are a few issues which should be addressed before a full application of the Blockchain system in the maritime transport.  The example of these issues could be special contractual terms and the purchase of commodities which are unique and very specific. Furthermore, it should be regarded that digital currencies such as the bitcoin protocol, can operate as a trustless network because its primary function is to help move an internal token around a closed system. However, for smart contracts to be useful they have to execute computations using real-world data such as freight rate and etc.  The Blockchain technology is expected to support shipping while enhancing the efficiency of the supply chain process. The discussions on the implementation of Blockchain such as logistics stakeholders' contribution to the Blockchain is still hot. The role of each actor and the level of their authorization to complete a block that is very important in goods transport chain.  In addition, a smart contract must be fully understood prior to its implementation in shipping and logistics entities. These are the challenging areas that could be explored and analyzed with a Multi-criteria analysis to identify the potentials, strength, and weak of Blockchain and smart contract in the freight forwarding industry.
Authors: Maryam Karimpour , and Reza Karimpour