From October 11-15 2021 the 5G-LOGINNOV project will take part in the ITS World Congress – the world's largest and most prominent event focused on smart mobility and the digitalisation of transportation.
---
During the ITS World Congress a first demonstration of 5G-LOGINNOV Hamburg LL set of use cases will be presented. At the LL Hamburg, the partners SWARCO, tec4U, Continental and T-Systems will demonstrate the potential of leveraging positive environmental impact by applying the functionalities of 5G for hybrid V2X-communication and traffic management, in particular outside the port and the hinterland. For this, an innovative set of use cases has been developed to be tested in Hamburg's TAVF, e.g. Floating Truck and Emission Data (FTED), 5G based Green Light Optimum Speed Advisory (GLOSA) and dynamic control loop for traffic management actions (DCET).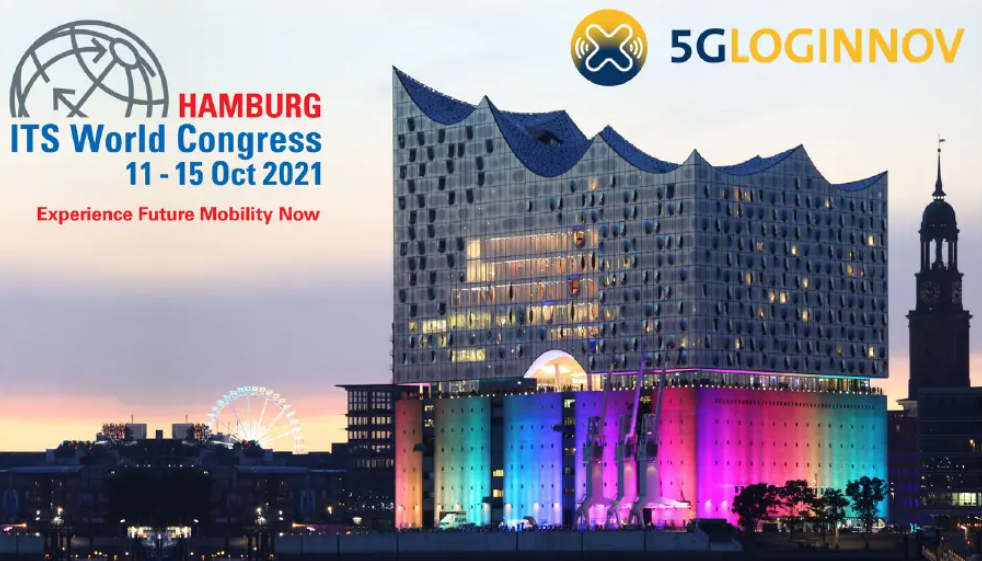 But the 5G-Loginnov participation at the ITS World Congress is not limited to the mentionend demonstration. Indeed 5G-LOGINNOV will also participate in the following three Special Interest Sessions (SIS) at the Congress.
SIS 91 – Digital transformation in logistics
This session will take place on Monday, October 11, 2021 from 11:00 AM to 12:30 PM at the Messe – B6 – Room 6. Dr. Eusebiu Catana, ERTICO – ITS Europe, Belgium will moderate the panel composed by:
Szymon Oscislowski, European Commission, DG MOVE, Belgium
Roeland van Bockel, Ministry of Infrastructure and Water management, The Netherlands
Fernando Liesa, ETP-Alice, Belgium
Sergio Barbarino, P&G, Belgium
André Perpey, NeoGLS, France
Marcel Huschebeck, PTV Group, Germany-replaced Zoltan-Mondelez
SIS 96 – CAD, Safe Platooning and 5G Eco-Systems for verticals
This session will take place on Wednesday, October 13, 2021 from 2:00 PM to 3:30 PM at the Messe – B6 – Room 6. Dr. Eusebiu Catana, ERTICO – ITS Europe, Belgium will moderate the panel composed by:
Emrah Kinav, Ford Otosan, Turkey
Oihana Otaegui, VICOMTECH, Spain
Ralf Willenbrock, T-Systems, Germany
Pekka Eloranta, VTT, Findland
Sterle Janez, ININ, Slovenia
Basaras Pavlos, ICCS, Greece
Final session – Autonomous Vehicle & Platooning, what next!?
This session will take place on Friday, October 15, 2021 from 9:00 AM to 10:30 AM at CCH – Room X2. During this session, ERTICO speakers will present real results & lesson learnt from CONCORDA&ENSEMBLE done on testing grounds and in real life and can serve to an experience to any other similar project. The speakers will be:
Vogel Sebe, Program Manager, NL
Dafonte Pablo, Program Manager, Spain
Marika Hoedemaeker, Project Coordinator, NL
Michael Menzel, Program manager, Germany
Omar Alshabibi, Manager ETAS-SEC/PRM, Germany
Jochen Hoidis, Senior Manager, Germany/USA
More information can be find here.
For further information on the ITS World Congress 2021 click here.