3D printing or additive manufacturing is defined as a process in which the material is joined or solidified under computer control system or software to create a three-dimensional object from a digital file. In this process, an object is created by laying down layers of material until the object is created. These layers can be seen as a  sliced horizontal cross-section of the eventual object. 3D printing enables to produce complex shapes precisely using less material than traditional manufacturing methods.
Working in partnership with Damen Shipyards Group, RAMLAB has manufactured the world's very first 3D-printed ship's propeller, which successfully passes all required quality tests. Having completed the prototype, the lab will continue with the development of a second propeller that will actually be installed on a tugboat in the near future.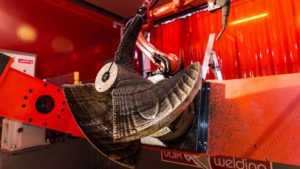 Source: Port of Rotterdam
The propeller, which weighs 400 kilograms and has a 1.30-metre diameter, forms a milestone in on-going efforts to master this relatively young technology. "A metal printer adds the material layer by layer, which means that the end result's characteristics differ from those of a conventionally cast ship's propeller," says Kees Custers, who works as a project engineer at Damen's R&D department. "The propeller was printed with a nickel, aluminium and bronze alloy."
Port-related sector
The Rotterdam Additive Manufacturing LAB (RAMLAB) is the first 3D printing field lab that specifically caters to the port-related sector. In due time, RAMLAB will be able to produce replacement parts in a matter of days with the aid of 3D metal printers (in a process also known as additive manufacturing). At present, a replacement part often takes months to fabricate. RAMLABG, which is located at RDM Rotterdam, is an initiative of the Port of Rotterdam Authority, InnovationQuarter and RDM Makerspace.
Source: Port of Rotterdam