The 20th Summit between the European Union and the People's Republic of China took place in Beijing July 16, 2018, in Beijing.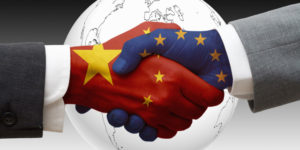 President of the European Commission Jean-Claude Juncker and President of the European Council Donald Tusk represented the European Union at the summit. The People's Republic of China was represented by Premier Li Keqiang. European Commission Vice-President for Jobs, Growth, Investment and Competitiveness, Jyrki Katainen, Trade Commissioner Cecilia Malmström, and Transport Commissioner Violeta Bulc also attended the Summit. President Tusk and President Juncker also met with the President of the People's Republic of China, Xi Jinping.
At the third meeting of the EU-China Connectivity Platform, held in the margins of the Summit and chaired for the EU by Commissioner Violeta Bulc, the two parties reaffirmed their commitment to transport connectivity on the basis of respective policy priorities, sustainability, market rules and international coordination.
The exchanges focused on:
the policy cooperation based on the Trans-European Transport Network (TEN-T) framework and the Belt and Road (new Silk Road) initiative, involving relevant third countries between EU and China;
cooperation on Transport decarbonisation and digitalisation, including in international fora such as the International Civil Aviation Organisation (ICAO) and the International Maritime Organisation (IMO)
cooperation on investment projects based on sustainability criteria, transparency and level-playing field to foster investment in transport between EU and China.
The joint agreed minutes of the Chairs' meeting are available online, along with the list of European transport projects presented under the EU-China Connectivity Platform.
The TEN-T related projects included in the attached list have been presented by the Member States concerned on a voluntary basis, in order to explore solutions to cover a potential financing gap, without prejudice of the final decision on financing which could be taken. The importance of a level-playing-field among investors and project promoters, of a geographically balanced list of projects, reciprocity and compliance with applicable EU rules and standards was recalled during the Pilot Expert Group meetings. As agreed in the minutes of the Chairs' meeting a rolling implementation mechanism will be set up in view to evaluate the list of jointly identified pilot projects.
1. The North Sea-Baltic Corridor (Latvia) comprising the following sub-projects:
i. Logistics and industrial centre project at the Freeport of Riga
ii. New terminal "Northern port" project at the Freeport of Ventspils
iii. Rail Baltica Intermodal Logistics Centre freight village
iv. Logistics centre for e-commerce business in the Riga International Airport
2. The V0 Rail Cargo Line Bypassing Budapest (Hungary)
3. The Hungary-Serbia Railway (Hungary and Serbia)
4. The Rijeka-Zagreb-Budapest project (Croatia)
5. Projects in the Orient/East-Med Corridor in the Western Balkans Region
6. The Corridor 5c Highway Project in Croatia and Bosnia and Herzegovina
7. The Railroad Project from Koper to Divaca (Slovenia)
8. Genoa Port breakwater project (Italy)
9. Trieste Integrated Rail Hub (Italy)
10. Adjusting Odra River Waterway (E30) to the international waterway standards (Poland)
11. Construction of Silesian Channel (Poland)
12. Construction of middle and lower Vistula cascade ( waterways E40 and E70) (Poland)
13. Warszawa- Brzesc connection – extending E-4o waterway (Poland)
14. Development of the Košice Intermodal terminal (Slovakia)
15. Development of the Leopoldov Intermodal Terminal (Slovakia)
16. Development of the Bratislava Trimodal Terminal(Slovakia)
17. Hemus motorway project and Black Sea motorway project (Bulgaria)
18. Restoration of the Design Parameters of Ruse – Varna Railway Line Project (Bulgaria)
Source: Portseurope