DP World says it will invest in the latest green technology at its UK ports to cut emissions and reduce its carbon footprint.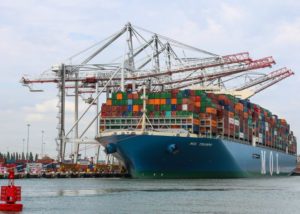 DP World is investing in the latest green technology at its UK ports Photo: DP World Southampton
The operator has placed an order for 12 hybrid straddle carriers at its terminal in Southampton which it expects to use 20% less fuel and reduce its emissions when compared to conventional diesel-electric machines.
"With this significant investment package on these new hybrid straddles we have achieved a significant milestone in investing in our environment and our future," said Nick Loader, UK chief operating officer, DP World.
"We believe that working in a sustainable and responsible way is essential to building a strong business for our customers, our people and the community in which we operate."
Fleet upgrade
By constantly renewing and upgrading its fleet, DP World Southampton will have achieved reducing its NOx emissions by over 50% by 2020.
The investment at Southampton is part of the global trade enabler's role in making supply chains more sustainable.
DP World is currently piloting the port industry's first fast-charging shuttle carrier solution at its other UK port, London Gateway, where the company already has 12 hybrid vehicles in its fleet.
The new hybrid straddle carriers use regenerating technology to charge modern Lithium-ion batteries. The company has ordered nine 4-high and three 3-high machines from the manufacturer Kalmar.
The new machines will be in operation by spring 2019.
Source: Greenport