The Baltic Ports Conference (BPC) the most important annual event for the organization, as all BPO members, other participants and guests joined together to discuss the key and urgent issues for the port business. It was first and foremost a great networking platform for the exchange of knowledge and experiences between various stakeholders making up the maritime community in the Baltic Sea region and beyond.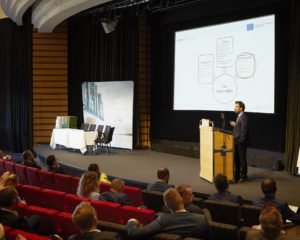 This year's event offered the participants an in-depth view of the current trends driving the global economy and its impact on the port market and helped answer the question behind the main factors defining a smart port. It would also take a closer look at cooperation opportunities between the ports and ship operators, which can lead to further development of the tourism sector. The BPC 2019 was given a warm welcome to the Ports of Stockholm and Stockholm city, northern Europe's fastest-growing metropolitan area. Traditionally, the Baltic Ports Conference was accompanied by the General Assembly of the BPO members, during which summaries, as well as discussions on up to date BPO business and future plans, take place.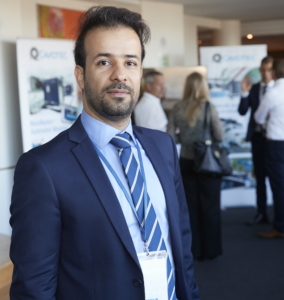 During the Baltic Port Conference 4-6 Sep, 2019 in Stockholm, the Docks The Future was introduced to audiences on 6 Sep, where he talked about the project and its contribution to defining " the Port of the Future, meant as a near future (2030) in Europe" which should face challenges related but not limited to simplification and digitalization of processes, sustainability, emission reduction, energy transition, climate change, port-city interface and the use of renewable energy management.
In particular, it showed the focus of the project on identifying the appropriate KPIs ("Key Performance Indicators") and relevant monitoring and evaluation actions. Furthermore, he put an emphasis on leading to the "Port of the Future Road Map for 2030" that will include a number of exploitation elements such as:
tools for evaluation and transferability of Port of the Future solutions,
R&D and policy recommendations,
training packages and
the creation of a "Port of the Future Network of Excellence".
It presented how with the experience of its professionals in European projects, Circle is leading a working group consisting of academic partners (Institut für Seeverkehrswirtschaft und Logistik – ISL in Bremen, Germany and University of Genoa, Italy) and of consulting companies Magellan (Portugal) and PortExpertise (Belgium). It indicated also that the project addresses preliminary research on the Port of Future concept, the definition of several Port of the Future topics to be addressed and their related targets in 2030 and a preliminary list of projects that have been clustered t with the RIA ("Research and Innovation Actions").
Here you can find the presentation: DTF